Stay in contact with us!
On 25 May 2018 the General Data Protection Regulation within the European Union takes effect (EU DSGVO). However, we would still like to inform you as our customer, business partner or supplier on our product and company news.
Based on Article 7 DSGVO we therefore need your explicit consent. To be absolutely sure, we kindly ask you to subscribe again to our newsletter under the following link:
https://www.schroedergroup.eu/en/news-events/newsletter/
At the same time, based on article 13 DSGVO we would like to inform you about our regulations concerning the handling of your personal data.

Assigned Data Use
We adhere to the principle of the assigned data use and collect, process and store your personal data only for the purposes for which you have communicated them to us. Your personal data is not transmitted without your explicit consent, provided that this is not necessary for rendering of the service or performance of the contract. The transfer to authorized national institution and authorities takes place only within the legal disclosure requirements or if we are required by a court decision to disclose. We take the internal data privacy very seriously. Our employees and the service providers appointed by us are bound by a duty of confidentiality and are under an obligation to obey the provisions of the Federal Data Protection Act.
Right to information and revocation
You have access to all your data stored by us at any time without giving reasons. You may at any time have the data which have been collected by us blocked, corrected or deleted. You may also at any time and without giving any reason revoke the consent you have given us to collect and use the data. For this purpose, please contact the contact address stated in the imprint.
We are always happy for any further questions to our directions for data protection and processing of your personal data is available.
For further information on our privacy policy please see the following link https://www.schroedergroup.eu/en/data-protection/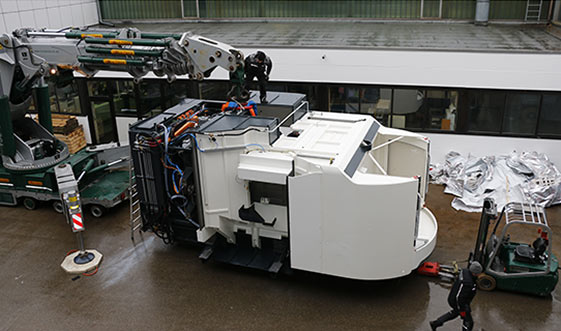 Investment in the future!
In February of this year we extended our machine park. With the new "DMC 160 U duoBLOCK" our production is equipped with a further universal machining center. The 5-axis milling center with pallet changer and generously sized tool changer is at the same time an expansion and modernization of our machine park. With this machining center we will further be able to increase the capacity and efficiency of our production.
The arrival of the machine was a real highlight: First of all due to its overwidth the machining center has been delivered with heavy transport trucks and police detachment. Afterwards a 150 tons special crane was necessary to get the machine into our factory hall.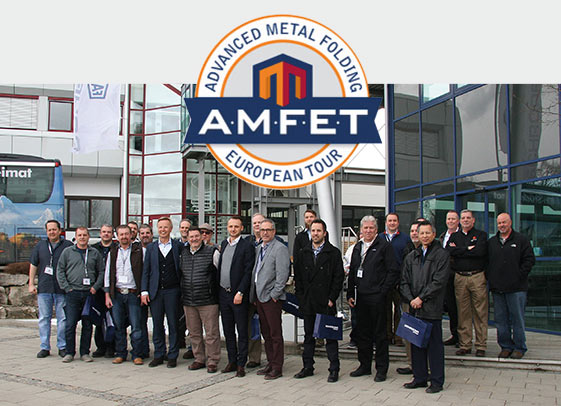 Roadshow!
In March, we organized a three-days Roadshow – the "Advanced Metal Folding European Tour", short AMFET together with our American dealer Metalforming Inc.
This tour offered 25 American customers from different sheet metal working sectors the opportunity to better get to know the folding technology of Schröder Group. Their goal: Stay competitive on the highly competitive market. During this tour we visited different Schröder Group customers in Bavaria and in Austria who gave us detailed insides into their company and showed us the use of Schröder folding machines. The visit at the Schröder Group headquarter in Wessobrunn-Forst formed the conclusion of this tour. Our experts presented and explained the total range of Schröder machines and led customers through all areas of our production up to our software development.
The exhibition marathon goes on!
In May as well as in June 2018 we will be represented on various exhibitions worldwide:
15.05.-18.05.2018:
Elmia Welding and Joining Technology in Jönköping/Sweden,
Stand A01:30
15.05.-19.05.2018:
FIMAQH in Buenos Aires/Argentina, Sector AZUL B, Stand 1930 and 2030
28.05.-01.06.2018:
BIEMH in Bilbao/Spain, Hall 5 Stand C-14
05.06.-08.06.2018:
Machtool in Posen/Polen, Hall 5
We are happy to meet you at these exhibitions and to show you all innovations on our sheet metal working machines. On these international exhibitions, we will be represented by our partners and will give the sheet metal working industry an overview of our product portfolio.

If you do not want to receive this newsletter anymore, please click unsubscribe
Hans Schröder Maschinenbau GmbH
Feuchten 2 | 82405 Wessobrunn-Forst | Germany
T +49 8809 9220-0 | F +49 8809 9220-700 | E info@schroedergroup.eu

Authorized chief executive officer: Franz Schröder | Address of record: Wessobrunn-Forst
Registration court Munich | HRB 52662 | VAD. ID-No. DE811325367
Person responsible for contend according to §10 section 3 MDStV:
Franz Schröder (address as above)
© 2018 Hans Schröder Maschinenbau GmbH, All rights reserved | Imprint
General information
The utmost care was taken to ensure the correctness and entirety of the information on the website. However, errors cannot be excluded completely.